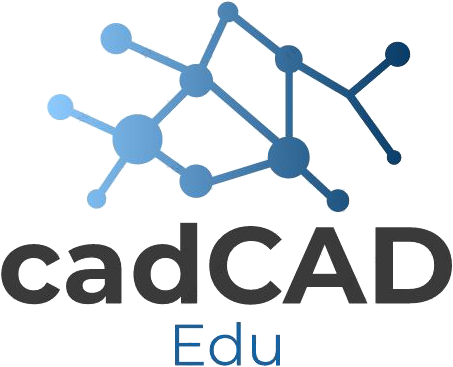 This Data Privacy Policy ("Policy" or "Privacy Policy") applies as between you, the User of this Website and cadCAD Edu Jonathan Gabler the owner and provider of this Website. This Policy applies to our use of any and all personal data ("Data") collected by us in relation to your use of the Web Site and any Services or Systems therein.
1. Definitions and Interpretation
Unless explicitly stated otherwise, the terms in this Policy shall have the same meaning as defined in our Terms of Service.
2. Data Collected
Without limitation, any of the following Data may be collected:
2.1 name;
2.2 date of birth;
2.3 job title & profession;
2.4 contact information such as email addresses and telephone numbers;
2.5 demographic information such as post code, preferences and interests;
2.6 financial information such as credit / debit card numbers;
2.7 IP address (automatically collected);
2.8 web browser type and version (automatically collected);
2.9 operating system (automatically collected);
2.10 a list of URLS starting with a referring site, your activity on this Web Site, and the site you exit to (automatically collected); and
2.11 Cookie information (see Clause 10 below).
3. Our Use of Data
3.1 Any personal Data you submit will be retained by cadCAD Edu Jonathan Gabler for as long as you use the Services and Systems provided on the Web Site. Data that you may submit through any communications System that we may provide may be retained for a longer period of up to one year.
3.2 Unless we are obliged or permitted by law to do so, and subject to Clause 4, your Data will not be disclosed to third parties. This includes our affiliates and / or other companies within our group.
3.3 All personal Data is stored securely in accordance with the principles of the Data Protection Act 1998. For more details on security, see Clause 9 below.
3.4 Any or all of the above Data may be required by us from time to time in order to provide you with the best possible service and experience when using our Web Site. Specifically, Data may be used by us for the following reasons:
3.4.1 internal record keeping;
3.4.2 improvement of our products / services;
3.4.3 transmission by email of promotional materials that may be of interest to you;
3.4.4 contact for market research purposes which may be done using email, telephone, fax or mail. Such information may be used to customise or update the Web Site.
4. Our Legal Basis for Use of Data
Our legal basis for collecting and using the Data described in this Privacy Policy depends on the Data we collect and the specific purposes for which we collect it. In addition to the purposes laid out in provision 3, we rely on the following legal basis:


Legal Basis
Explanation
Purpose
Contract
To perform our contractual obligations or take steps linked to a contract with you or your organisation.

To register you as a User as instructed by you.
To provide and administer Services.
To provide you with customer support.

Consent
We may rely on your freely given consent at the time you provided your Personal Data.

To provide you with news, special offers and general information about goods, services and events which we offer (with your explicit consent).

Legitimate interests
We may rely on legitimate interests based on our evaluation that the processing is fair, reasonable and balanced.

To provide and maintain our Services, as well as to detect, prevent and address security threats.
To analyse, improve, personalise and monitor the usage of our Services and communications.
To notify you about changes to our Services and our Privacy Policy.

Public interest
To meet regulatory and public interest obligations.

To maintain records and conduct compliance checks.
5. Third Party Web Sites and Services
cadCAD Edu Jonathan Gabler may, from time to time, employ the services of other parties for dealing with matters that may include, but are not limited to, payment handling, delivery and madking available of purchased items and services, search engine facilities, advertising and marketing. The providers of such services do not have access to certain personal Data provided by Users of this Website. Any Data used by such parties is used only to the extent required by them to perform the services that cadCAD Edu Jonathan Gabler requests. Any use for other purposes is strictly prohibited. Furthermore, any Data that is processed by third parties must be processed within applicable data protection regulation.
6. Changes of Business Ownership and Control
6.1 cadCAD Edu Jonathan Gabler may, from time to time, expand or reduce its business and this may involve the sale of certain divisions or the transfer of control of certain divisions to other parties. Data provided by Users will, where it is relevant to any division so transferred, be transferred along with that division and the new owner or newly controlling party will, under the terms of this Policy, be permitted to use the Data for the purposes for which it was supplied by you.
6.2 In the event that any Data submitted by Users will be transferred in such a manner, you will be contacted in advance and informed of the changes. When contacted you will be given the choice to have your Data deleted or withheld from the new owner or controller.
7. Your Data Protection Rights
Depending on your location and nationality, you may have certain data protection rights as laid out below. We will respond to your request without undue delay, at the latest within one calendar month after receipt. Please note that we may ask you to verify your identity before responding to such requests.
| | |
| --- | --- |
| Right to access | You have a right to request a copy of the Personal Data held by us as a data controller, which we will provide to you in an electronic form. |
| Right to amendment | You have the right to ask us to correct our records if you believe they contain incorrect or incomplete information about you. |
| Right to withdraw consent | If you have provided your consent to the collection, processing and transfer of your Personal Data, you have the right to fully or partly withdraw your consent. This includes cases where you wish to opt out from marketing messages.Once we have received notification that you have withdrawn your consent, we will no longer process your information for the purpose(s) to which you originally consented unless there is another Legal Basis for the processing. To stop receiving emails from us, please click on the "unsubscribe" link in the email you received from us or contact us at [email protected]. |
| Right to erasure | You have the right to request that we delete your Personal Data when it is no longer necessary for the Purposes for which it was collected, or when it was unlawfully processed |
| Right to restriction of processing | You have the right to request the restriction of our processing of your Personal Data where you believe it to be inaccurate, our processing is unlawful, or where we no longer need to process it for the initial Purpose, but where we are not able to delete it due to a legal obligation or because you do not want us to delete it. |
| Right to portability | You have the right to request that we transmit your Personal Data to another data controller in a common format such as Excel, where this is data which you have provided to us and where we are processing it on the Legal Basis of your consent or in order to perform our contractual obligations (e.g. to provide our Services). |
| Right to object to processing | Where the Legal Basis for our processing of your Personal Data is our legitimate interest, you have the right to object to such processing on grounds relating to your particular situation. We will abide by your request unless we have compelling legitimate Legal Basis for the processing which override your interests, or if we need to continue to process the Data for the establishment, exercise or defence of a legal claim. |
| Right to lodge a complaint with a supervisory authority | You have the right of appeal to a data protection supervisory authority if you believe that the processing of your personal data violates data protection law. |
8. Security
Data security is of great importance to cadCAD Edu Jonathan Gabler and to protect your Data we have put in place suitable physical, electronic and managerial procedures to safeguard and secure Data collected online.
9. Changes to this Policy
cadCAD Edu Jonathan Gabler reserves the right to change this Policy as we may deem necessary from time to time or as may be required by law. Any changes will be immediately posted on the Website and you are deemed to have accepted the terms of the Policy on your first use of the Website following the alterations.
10. Contacting Us
For the purposes of using our Services, we are considered a data controller with respect to your Data. If there are any questions regarding this Policy you may contact us at
[email protected]
.
Created with