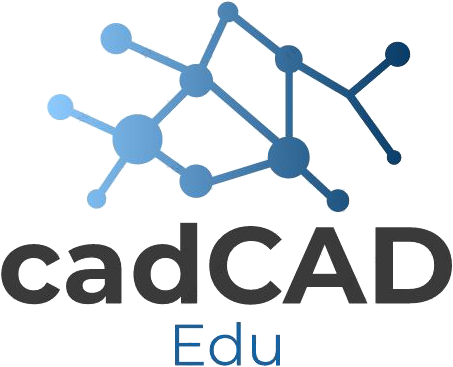 Welcome to cadCAD Edu - the Website and Services offered by cadCAD Edu Jonathan Gabler ("cadCAD Edu", "we", "us" or "our"). These Terms of Service ("Agreement") explain the terms by which you ("User" or "you") may use our Website and our Services. Our
Privacy Policy
forms an integral part of this Agreement. By accessing the Website and using our Services, you signify that you have fully read, understood and agree to the terms laid out in this Agreement. If you do not agree with the terms of this Agreement, you may not continue using our Services. You understand that no part of this Website is intended to constitute a contractual offer capable of acceptance. Your order constitutes a contractual offer and our acceptance of that offer is deemed to occur upon our sending of a confirmation to you indicating that your order has been accepted.
1. Definitions and Interpretation
In addition to the definitions laid out above, the following terms shall have the following meanings:
"Account": means collectively the personal information, Payment Information and credentials used by Users to access paid Content and / or any other part of our Services or System(s);
"Content": means any text, graphics, images, audio, video, software, data compilations and any other form of information capable of being stored in a computer that appears on or forms part of our Services;
"Website": means the website under the domain www.cadcad.education including all subdomains;
"Services": means the services and materials provided on or in connection with the Website, specifically the use of the cadcad EDU proprietary e-learning platform;
"Payment Information": means any details required for the purchase of Services from this Website. This includes, but is not limited to, credit / debit card numbers, bank account numbers and sort codes;
"Premises": Means Our place(s) of business located at ADDRESS;
"System": means any online communications infrastructure that cadCAD Edu makes available through the Website either now or in the future. This includes, but is not limited to, web-based email, message boards, live chat facilities and email links.
2. Provision of Services
We provide you with a right to use our Services in accordance with this Agreement. We shall use all our reasonable endeavours to provide the Services with reasonable skill and care. You explicitly agree to the following:
Whilst every effort has been made to ensure that all general descriptions of Services correspond to the actual Services that will be provided to you, we are not responsible for any variations from these descriptions as the exact nature of the Services may vary depending on your individual requirements and circumstances.
Where appropriate, you may be required to select the required plan of Services.
We neither represent nor warrant that our Services will be available at all times and cannot necessarily confirm availability until confirming your order. Availability indications are not provided on the Website.
All pricing information on the Website is correct at the time of going online. We reserve the right to change prices and alter or remove any special offers from time to time and as necessary.
You are expressly and emphatically restricted from all of the following:
You shall not sell, sublicense and/or otherwise commercialize any of the Services.
You shall not use the Services in any way that is, or may be, damaging to the Services.
You shall not use the Services in any way that impacts the usage of other Users.
You shall not use the Services in ways which are unlawful or fraudulent or have any unlawful or fraudulent purpose or effect.
You shall not circumvent or attempt to circumvent any security protection on the Services. Users shall not upload anything to the Services which contains any harmful programs or similar computer code designed to affect the operation of the Services or any other computer software or hardware.
You shall not engage in any data mining, data harvesting, data extracting or any other similar activity in relation to the Services or while using the Services.
cadCAD Edu may use carefully selected third parties to provide (parts of) the Services.
3. Accounts
In order to procure Services on this Website and to use certain other parts of the System, you are required to create an Account which will contain certain personal details and Payment Information which may vary based upon your use of the Website as we may not require payment information until you wish to make a purchase. By continuing to use this Website, you represent and warrant that:
all information you submit is accurate and truthful;
you have permission to submit Payment Information where permission may be required; and
you will keep this information accurate and up-to-date. Your creation of an Account is further affirmation of your representation and warranty.
It is recommended that you do not share your Account details, particularly your username and password. We accept no liability for any losses or damages incurred as a result of your Account details being shared by you. If you use a shared computer, it is recommended that you do not save your Account details in your internet browser.
If you have reason to believe that your Account details have been obtained by another person without consent, you should contact Us immediately to suspend your Account and cancel any unauthorized orders or payments that may be pending. Please be aware that orders or payments can only be cancelled up until provision of Services has commenced. In the event that an unauthorized provision commences prior to your notifying Us of the unauthorized nature of the order or payment then you shall be charged for the period from the commencement of the provision of services until the date you notified us and may be charged for a billing cycle of one month.
Either cadCAD Edu or you may terminate your Account. If we terminate your Account, you will be notified. We reserve the right to terminate without giving reasons. If We terminate your Account, any current or pending orders or payments on your Account will be cancelled and provision of Services will not commence.
4. Use of Communications Facilities
When using any System on the Website you should do so in accordance with the following rules. Failure to comply with these rules may result in your Account being suspended or closed:


You must not use obscene or vulgar language;
You must not submit Content that is unlawful or otherwise objectionable. This includes, but is not limited to, Content that is abusive, threatening, harassing, defamatory, ageist, sexist or racist;
You must not submit Content that is intended to promote or incite violence;
It is advised that submissions are made using the English language as We may be unable to respond to inquiries submitted in any other languages;
The means by which you identify yourself must not violate these Terms and Conditions or any applicable laws;
You must not impersonate other people, particularly employees and representatives of cadCAD Edu;
You must not use our System for unauthorized mass-communication such as "spam" or "junk mail".
You acknowledge that cadCAD Edu reserves the right to monitor any and all communications made to us or using our System.
You acknowledge that cadCAD Edu may retain copies of any and all communications made to us or using our System.
You acknowledge that any information you send to us through our System may be modified by us in any way and you hereby waive your moral right to be identified as the author of such information. Any restrictions you may wish to place upon our use of such information must be communicated to us in advance and We reserve the right to reject such terms and associated information
5. Payment and payment terms
The provision of our Services is subject to the payment of the fees indicated on the Website and/or your order confirmation. The fees are based on the Services purchased and not on usage.


All fees are payable upfront unless indicated otherwise and under the exclusion of an off-set right. Late payments are subject to interest and after a notice of non-payment and thirty (30) days to cure, non payment can result in our immediate termination of this Agreement and your suspension of the Services.


Unless otherwise stated, all fees are exclusive of value-added or similar taxes. The User shall indemnify us for any liability or expense incurred by us as a result of the User's failure or delay in paying applicable taxes.


You furthermore agree to the following:


If we, for any reason, do not accept your order, no payment shall be taken under normal circumstances. In any event, any sums paid by you in relation to that order will be refunded within 14 calendar days.
Payment for the Services shall be taken via your chosen payment method offered by us.
6. Intellectual Property
We (and/or our licencors) own all right, title and interest to all intellectual property rights and other rights (including but not limited to the graphics, design, pictures, content, data, information, software) in the Website and the Services and any changes, updates, optimizations, modifications or corrections thereto.
You receive a limited, non-exclusive, non-transferable, non-sublicensable right to access and use the Services in accordance with this Agreement. Any other use of the Services, the Services and of any content available, including, without limitation, commercialization, distribution, reproduction, modification, display or transmission, in whole or in part, without our prior written consent is strictly prohibited.
7. Representations and Warranties
Except as expressly set forth herein, we make no warranties of any kind, express or implied, guarantees or conditions with respect to the use of the Services
We provide the Services "as is" and "as available", and make no warranty as to their accuracy, timeliness, correctness, reliability, completeness, use or performance for a specific purpose. We do not warrant the performance or results that may be obtained by using the Services. No part of this Website is intended to constitute advice and the Content of this Website should not be relied upon when making any decisions or taking any action of any kind. You assume the entire risk for the use, results and performance of the Services.


Whilst We use reasonable endeavors to ensure that the Website is secure and free of errors, viruses and other malware, you are strongly advised to take responsibility for your own internet security, that of your personal details and your computers.


The Services may contain links to websites governed by separate terms of use. To the extent possible, we disclaim responsibility for such websites linked to, including but not limited to the contents of such websites or the use of such websites.
8. Limitation of liability
To the maximum extent permitted by law, we accept no liability for any direct or indirect loss or damage, foreseeable or otherwise, including any indirect, consequential, special or exemplary damages arising from the use of the Services or any information contained therein. You should be aware that you use the Website and its Content at your own risk.
We explicitly do not accept liability for any disruption or non-availability of the Services resulting from external causes including, but not limited to, ISP equipment failure, host equipment failure, communications network failure, power failure, natural events, acts of war or legal restrictions and censorship (force majeure).


The limitations in this Section will not apply to losses or damages caused by wilful misconduct or gross negligence or to the extent prohibited by applicable law or to bodily harm or damage to physical property.


The User will defend, indemnify and hold us harmless against any and all claims, liability, loss, costs, penalties, and damages, including reasonable attorney fees, arising out of User's breach of this Agreement.
9. Privacy Policy
Use of the Website is also governed by our Privacy Policy which forms an integral part of this Agreement. To view the Privacy Policy, please click on the link above.
10. Changes to this Agreement
We reserve the right to change this Agreement at any time. You will be bound by any changes to this Agreement from the first time you use the Services following the changes.
11. Miscellaneous
No waiver of rights
: In the event that we fail to exercise any right or remedy contained in this Agreement, this shall not be construed as a waiver of that right or remedy.
Severability: If any part of this Agreement is held invalid or unenforceable, that portion of the Agreement will be construed to reflect the parties' original intent. The remaining portions will remain in full force and effect.


Assignment: We may assign or delegate this Agreement, in whole or in part, to any person or entity at any time with or without the User's consent. The User may not assign or delegate any rights or obligations under the Agreement without our prior written consent, and any unauthorized assignment and delegation by the User is void.


Notices:
Unless explicitly stated otherwise, all notices can be given in electronic form. The User can notify us under
[email protected]
. We may from time to time, if you opt to receive it, send you information about our Services. If you do not wish to receive such information, please click on the 'Unsubscribe' link in any email which you receive from us.
Choice of Law and Jurisdiction: This Agreement shall be governed by and construed in accordance with the substantive laws of Switzerland under the exclusion of its principles on the laws of conflict and under exclusion of the United Nations Convention on Contracts for the International Sale of Goods (CISG).


All disputes arising out of or in connection with the present Agreement, including disputes on its conclusion, binding effect, amendment and termination, shall be exclusively resolved by the courts at the seat of cadCAD Edu.
Created with